4 Iqaa  (Alba records 2003)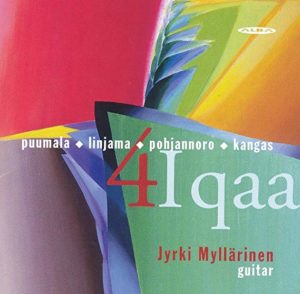 Puumala, Veli-Matti (1965-):
Hailin' Drams
Linjama, Jyrki (1962-):
Sonaatti kitaralle (Sonata for Guitar)
Pohjannoro, Hannu ( 1963-):
kuun kiertoa kohti (towards the orbit of the moon) (1998)
Kangas, Juho (1976-):
Fantasia per chitarra (2002)
Jyrki Myllärinen masters numerous playing techniques. On his record "Neljä aikaa" the guitar shows that it is capable of more than pleasant ambience. The expression scale reaches from physical power to intellectual curiosity and quiet richness of tone.
Helsingin Sanomat, Jukka Isopuro
Record on YouTube:
Guitarra Española (Jubal 2000)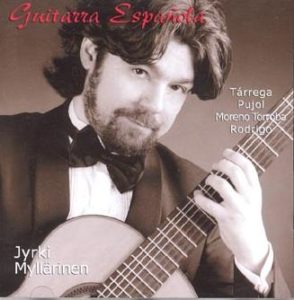 Francisco Tárrega (1852-1909)
Capricho Arabe
Adelita
Mazurka en sol
Sueño
Marieta
Recuerdos de la Alhambra
Emilio Pujol (1886-1980)
Trois Morceaux espagnols
Tonadilla (Manola del Avapiés)
Tango espagnol
Guajira (évocation cubaine)
Federico Moreno Torroba (1891-1982)
Sigüenza
Turegano (Serranilla)
Romance de los Pinos (Montemayor)
Torija (Elegia)
Rebada
Simancas (Juglaresca)
Alcañiz (Festiva)
Joaquin Rodrigo (1901-1999)
Tres piezas españolas
Fandango
Passacaglia
Zapateado
J.S. Bach Lute Compositions (Jubal 1998)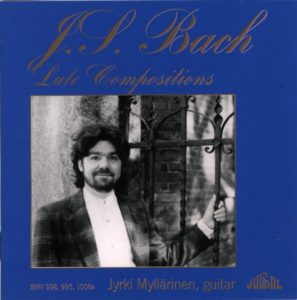 Prelude-Fuga-Allegro Es Major BWV 998 performed in D Major
Prelude
Fuga
Allegro
Lute Suite g minor BWV 995
Prelude, Presto
Allemande
Courante
Sarabande
Gavotte I & II
Gigue
Lute Suite E Major BWV 1006a
Prelude
Loure
Gavotte en Rondeau
Menuet I & II
Bourrée
Gigue
The standard of Finnish guitarists is rising rapidly. Jyrki Myllärinen has found an airy and brilliant guitar sound for his second record. Bach's difficult polyphony is executed mostly smoothly and with control, which can't be taken for granted. Myllärinen even does ornaments on repeats! A great accomplishment.
Helsingin sanomat, Veijo Murtomäki
Jyrki Myllärinen Guitar (Jubal 1997)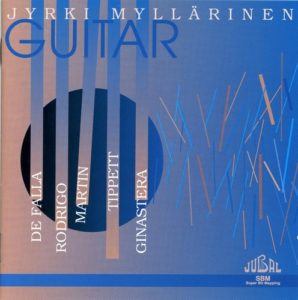 Manuel de Falla:
Homenaje: "Le Tombeau de Claude Debussy"
Joaquin Rodrigo:
Invocación y danza
Frank Martin:
Quatre Pièces Brèves
I. Prélude
II. Air
III. Plainte
IV. Comme une Gigue
Michael Tippett:
The Blue Guitar – Sonata for solo guitar
I. Transforming
Being the lion in the lute
Before the lion locked in stone
II. Juggling
…the old fantoche
Hanging his shawl upon the wind
III. Dreaming
…Morning is not sun,
It is this posture of nerves,
As if a blunted player clutched
The nuances of the blue guitar
Alberto Ginastera:
Sonata op. 47
I. Esordio
II. Scherzo
III. Canto
IV. FinaleNäyte
But simply, this beautifully performed and recorded disc of some 20th-century classics is really impressive: Rodrigo's compelling Invocation y danza particularly so. Jyrki Myllärinen displays his virtuosity and richness of tone near the opening of the work: the bass melody is sublime and the variation of timbre later in the piece, combined with a fine tremolo, contribute to a superlative renderingÉ Often when one hears new CDs of reasonably familiar material one can tend to think : 'here we go again' or simply, 'why?' Not this time
Geoff Cox, Classical Guitar